Board of Directors Nominations and Applications
Help advance our profession and build a stronger Board by submitting an application, or nominate someone else, to be considered for an open position.
CalSAE has an open nomination process - you can nominate yourself or someone else. The deadline for submitting an application is Monday, October 24.
If elected, terms begin July 1st for all Board and Officer positions. Please scroll down the page to see the nomination links and details about the process. If you have any questions, contact Jim Anderson at jim@calsae.org.
---
Positions

Director
Directors guide the organization's policy and strategic direction in order to accomplish its vision and mission. Terms are for two years and each Director may be re-elected once (serving up to four consecutive years). Both Association Professional members and Industry Partner members may apply to be a Director.
---
Treasurer
The Treasurer is the member of the Board who oversees the organization's finances and financial processes—including the development and oversight of the budget—and is also an Officer and member of the Executive Committee. As part of the "leadership pipeline," the Treasurer is expected to serve as Vice Chair & Secretary the following year and as Chair of the Board the year after that.
---
Industry Partner Vice Chair
The Industry Partner Vice Chair (IPVC) is an Officer and member of the Executive Committee. The IPVC is also a voting member of the Board of Directors. The term for this position is one year that begins on July 1.
---
Application & Selection Process

STEP 1
All interested members should carefully review the Responsibilities of a CalSAE Board Member, the Responsibilities of the CalSAE Treasurer, or Responsibilities of the Industry Partner Vice Chair based on their interests. In addition, applicants are encouraged to review the Board Competencies listed on page seven of ASAE's Building Better Association Boards. These documents are intended to assist candidates to self-assess their qualifications and their realistic view of the time commitment that board service will require.
STEP 2
Each candidate should complete the electronic application in full (provided below). All applications must be received electronically no later than 5:00 p.m. on Monday, October 24, 2022. Late applications will not be considered.
STEP 3
The Nominating Committee will carefully review and assess all applications against the position description and competencies. A "shortlist" of candidates may be developed for further consideration. This step will be completed by November 30, 2022.
STEP 4
The Nominating Committee may conduct candidate interviews via Zoom video conferencing. Candidates will be notified by November 28 for a possible interview (15-20 minutes).
STEP 5
The Nominating Committee will select the finalists for full Board consideration in January 2023.
STEP 6
The Board will review the Nominating Committee recommendations for approval at its meeting in February 2023. Candidates will be notified after affirmation by the Board no later than March 1, 2023.
STEP 7
The final ballot approved by the Board will be presented to members for voting in March 2023. Beginning July 1, 2023, the elected Chair, Vice Chair, Treasurer and Industry Partner Vice Chair will serve a one-year term while elected Directors will serve a two-year term.
---
Nominations
Nominating Someone Else? Please submit your nomination by 5:00 p.m. on Friday, October 14th to provide your nominee ample time to complete the appropriate application before the October 24th deadline.
Important Note o the Selection Process. CalSAE is fortunate in that it typically receives multiple applications from qualified candidates each year. Keep in mind that selection is based on a variety of factors depending on the needs of the organization. Individuals often apply more than once before being selected for those reasons. If you are not selected, that should NOT be interpreted as being unqualified.
---
Line of Development for Leadership Positions

While CalSAE service is important, there should be flexibility in choosing qualified candidates based on the overall needs of the organization. Below is a set of sample pathways of potential leadership flow.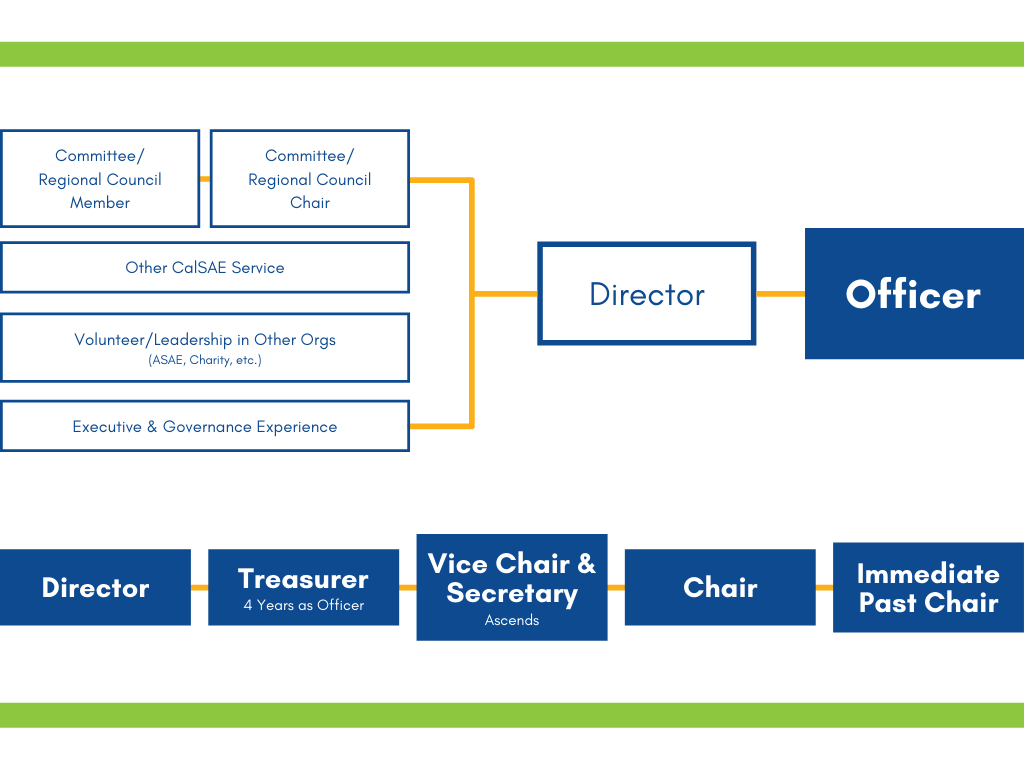 Directors serve a two-year term and may serve one additional two-year term (total four years); Treasurer (officer position) is a one-year term with the ascension to Vice Chair & Secretary; Vice Chair & Secretary is a one-year term with the ascension to Chair; Chair serves a one-year term and then becomes Immediate Past Chair (also one-year term). The commitment from Treasurer to Immediate Past Chair is four years.
---
Key Competencies for Volunteer Leaders & Board Members
The following is summarized from ASAE's Building Better Association Boards (2019).
Group Skills
Team Orientation. Preference and understanding to solve problems in groups rather than as an individual; prioritize group goals over individual priorities.
Interpersonal Skills
Communication is the ability to convey information effectively and to listen to others.
Relational competency is the ability to nurture the development and cohesion of a team by building trusting relationships.
Influence is the capacity to have an effect on the behavior and decision making of others.
Reputation is the perception others have of the character or capabilities of an individual.
Personal Leadership Skills

Strategic competency is the ability to analyze issues and make decisions that set and support the intended direction of the organization.
Innovation results in the creation of new solutions and fosters new ideas.
Technical Skills

Knowledge of the field and organization gives board members important context to make informed decisions and provide direction for the Board.
Expertise and experience is knowledge and information in areas that the Board needs to offer guidance and advice on critical issues.

---
What Volunteer Leaders Can Expect
Complete understanding of the position – time required, required tasks, duties
To feel welcomed
Good training
Opportunity to do interesting work
To be appreciated
To be communicated with
To know they are helping to make their community a better place
To be socially connected
To learn something new