Back to Events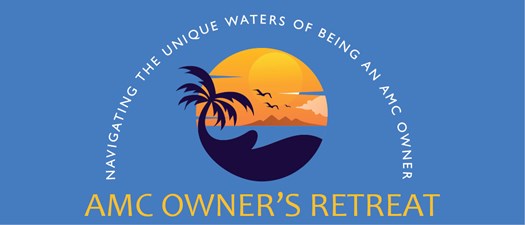 AMC Owner's Retreat
Sunday, September 18, 2022
at
10:00 AM (PDT)
to Monday, September 19, 2022 at 2:00 PM (PDT)
Event Details
CalSAE members who are owners of Association Management Companies (AMCs) gather together each year for peer-to-peer education and networking. To qualify as an AMC owner/principal you must meet the definition of an AMC by providing full-service management for at least two clients.
The structure and business needs of AMCs are very nuanced and quite unique beyond just association management. As an example, the valuation of profitability is the unique differentiator between AMCs and associations - because of the private sector component. The level of complexity and sophistication within each AMC is the guiding factor for how owners determine how to run and expand their business.
Join your colleagues for a day and a half of conversation as you explore timely, relevant, and AMC-specific topics such as:
Fundamentals of an AMC Business
What is your AMC's purpose and business philosophy?
Self-reflection on your personal "why" for owning an AMC
Roadmap for the future and succession planning
Measuring profitability, business valuation, and models
Legal and tax implications, liability, and risks to consider as defined by how the AMC is incorporated (C-corp, S-corp, or LLC)
Making the Business Case for AMCs
Market acquisition, growth strategies, and risk assessment
Factors in making a business case for each client
Considerations for multiple clients that are complimentary to one another
---
Pricing
Members: $259
Non-Members: $574 (includes membership dues)
*must be an existing member or become a member to attend
---
Registration Deadline
Monday, August 29, 2022
---
Cancellation Policy
No refunds when canceled within 3 business days prior to the start date.
Agenda
September 18
10:00 AM - 12:00 PM

AMC Owner's Retreat Kick-Off & Conversation

12:00 PM - 1:00 PM

Lunch

1:00 PM - 4:30 PM

AMC Owner's Retreat Programming

5:00 PM - 5:10 PM

Board Shuttle for Offsite Dinner

5:30 PM - 8:00 PM

Dinner

September 19
8:00 AM - 8:30 AM

Breakfast

8:30 AM - 11:30 AM

AMC Owner's Retreat Programming

11:30 AM - 12:30 PM

Lunch

12:30 PM - 2:00 PM

AMC Owner's Retreat Concludes
---
Hotel Accomodations
First night's stay at Balboa Bay Resort will be complimentary, additional nights will be at the rate of $435. CalSAE will make all room reservations. Stay includes waived resort fee and valet parking.
---
CAE Credits
As a CAE Approved Provider educational program related to the CAE exam content outline, this program may be applied for 10 credits toward your CAE application or renewal professional development requirements.
---
---
Contact
Lindsay Poss, Director of Meetings and Events: lindsay@calsae.org
---
Policies
Meeting & Event General Policies
In-Person Meetings Policy
Personal Responsibility and Liability Waiver